Coastal Cruisers
Trips are usually twice per month.  Cruises are at  various  times  due  to  changes  in  the  weather.  The two-hour morning or afternoon pontoon cruises may leave from Sarasota, Venice or the EnglewoodFreedomBoatClub.  Members are treated to views along the bay or Intercoastal Waterway followed by a  stop at a waterfront restaurant or at a beach for a picnic.
Contact:  Paula Dulski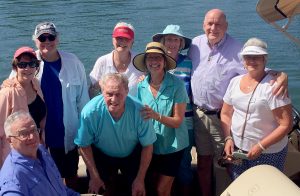 Book Club
Members meet at the Jacaranda Library at 1:30 on the second Monday of the month from September through May.  Book lovers are encouraged to join the lively discussions on a variety of contemporary literature.  The list of books that will be discussed is available in May.
Contact:  Barbara Martinage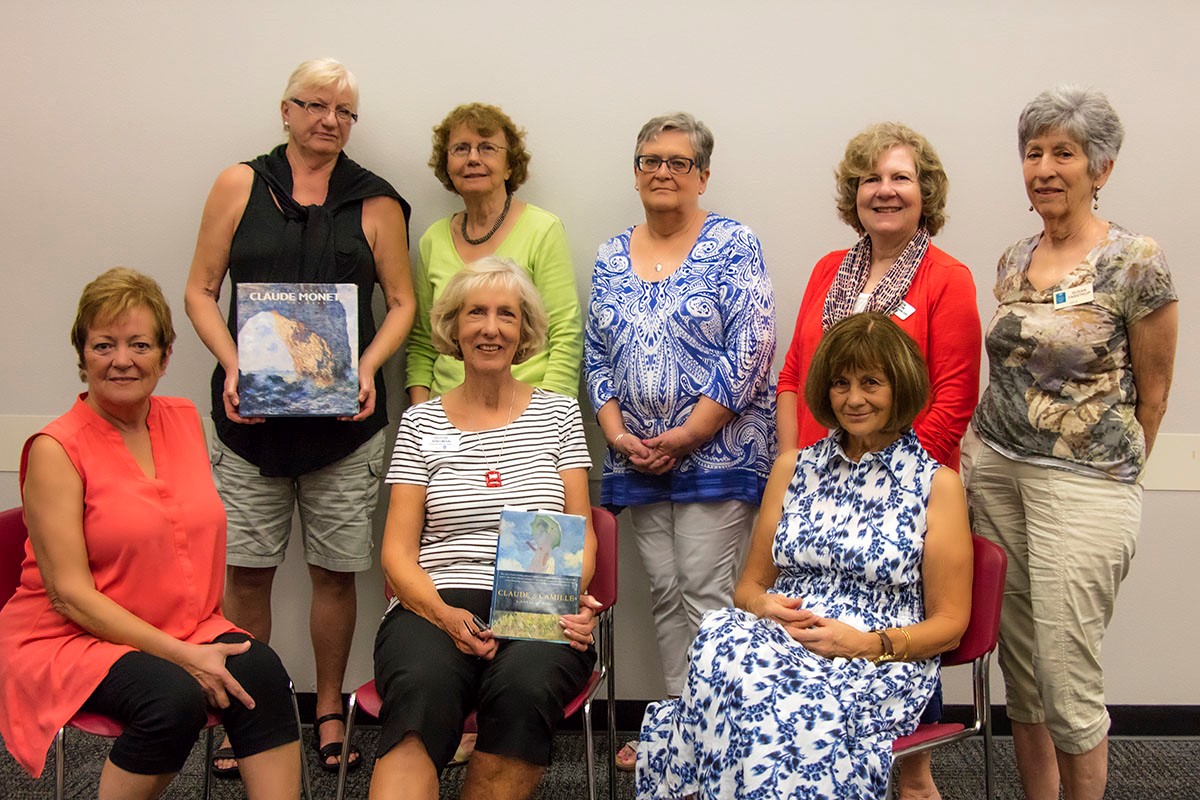 ARMCHAIR TRAVELERS
BRIDGE FOR FUN
Members meet on the 2nd and 4th Friday of the month at 11:30am at Jacaranda West Country Club.  This group is open to members who love Bridge and enjoy a lively game.
Contact:  Carol Cudia or Jan Hollister
COOK'S CORNER
Members meet at noon on the 3rd Wednesday of the month at members' homes.  A theme is chosen each month and everyone brings an appropriate dish to sample.  Members then discuss the inspiration for their dish, mixed with laughter to add flavor.
Contact:  Janet Schotz or Shirley Schaefer
DUPLICATE BRIDGE
Members meet on the 1st and 3rd Thursday of the month at 11:30 at Mission Valley Country Club.  This group is for those who are intermediate or higher Duplicate Bridge players.  During each session, partners are randomly drawn and play is scored according to ACBL rules.  Play ends at 3:30.  Lunch is available at the club.
Contact:  Susan Leege
EUCHRE
Members meet the 1st and 3rd Friday of the month at 11:30 at various locations.  Members are encouraged to participate as the game is fun and easy to learn.  Lunch will be purchased at the hosting locations.  Play ends at 3:00.
EVENINGS OUT
Members meet at local restaurants on the 3rd Wednesday of the month at 6pm from October through April.  Members may bring guests.
Contact:  Melanie Odom and Lois Odom
EXPLORING WITH YOUR CAMERA
Members meet on the 2nd Friday of the month at various interesting locations.  This group is not a professional camera group.  All you need is a sense of adventure and a Smart Phone.
Contact:  Stephanie Hallowell
This photo was taken by one of the SIGs:  Exploring With Your Camera.  The group went to Tervis Tumbler and made a personalized tumbler with one of the photos they had taken.
FINANCIAL FITNESS
Financial Fitness is a forum to discuss and learn more about financial topics of interest and importance to women– from financial planning to investment related topics.   The group brings together members with varying levels of knowledge and experience in an environment in which we can all learn from each other.
Contact:  Fran Potter
FRENCH CONVERSATION
Members meet on the 2nd and 4th Friday of the month at 10:30 at Jacaranda West Country Club.  Anyone can join in the conversation.
KALEIDOSCOPE
INTERCLUB BRIDGE

LUNCH BUNCH
Members meet on the 4th Wednesday of the month at noon.  Members explore the lunch experience at various local restaurants.  Occasionally the group meets for "Happy Hour".
Contact:  Paula Choyke
MAHJONGG FOR FUN
Members meet on the 1st Friday of the month at 11:30 at a location in the Venice area.  The group enjoys lunch between playing time.  Betting is included as part of the game with a $3 limit.  The games end about 2:30 to 3:00.  Anyone that plays the game and has a card is invited to join the game.
Contact:  Nancy Donelson or Wendy Orlando
OUTDOOR ADVENTURE

PLAY READERS
This group meets on the 4th Thursday of the month at 10:00.  The group meets five times a year in October, January, February, March and April.  Members read plays but also put on select programs including The Womens' Rights Convention, President Wives, Famous Florida Women, and Famous Women Inventors.  These programs have been presented at AAUW meetings, state conventions, and for community groups.  Any money generated is donated to the Tech Trek program.
Contact:  Fran Brinkman