Dear AAUW Members,
We have to make a change to our meeting times. The church is reserved from 10:00 until 2:00. We cannot extend the 2:00 time as Rich (the facilities manager}) needs to leave work at 4 and cannot get all his work done if we go later. Last month we were significantly over the 2:00 deadline. Therefore, we will start the lunch at 11:30 and the program will begin at 12:15. Meeting to follow program at 12:45 to 12:55.
However, this month, because of the very important vote on the future of the Scholarship and Endowment the meeting will be first and the program second.
Please tell anyone you see about the time change for all general meetings and the special timing for the meeting on November 9th.
See you on the 9th.
Kathleen Pickering
President. AAUW Venice
---
AAUW Home Tour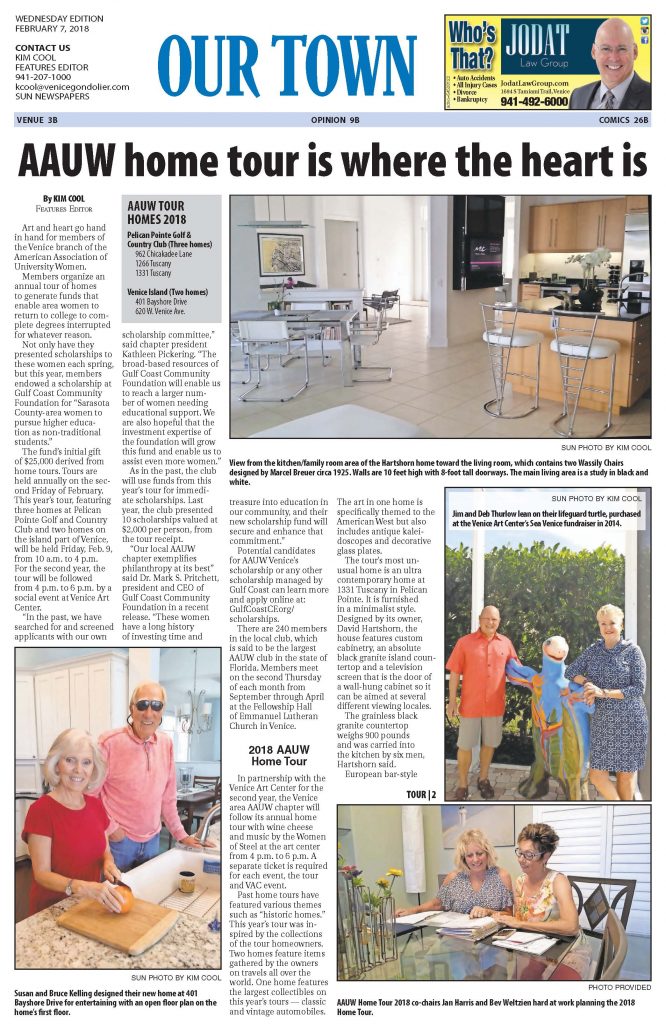 ---
Whereas, Venice branch of American Association of University Women (AAUW) is dedicated to assisting women and girls in achieving their goals through higher education,
Whereas, one of its vital undertakings is the funding of re-entry scholarships for Sarasota County area women who are pursuing college-level degrees.
Whereas, Starting in 2017, women were invited to apply for the new Category of Delayed-entry that is defined as pursuing higher education goals that include licensure and certification
Whereas, this funding has provided more than $144,000 in competitive scholarship support to 71 area women, principally through its annual Home Tour which invites participation by the general public. In 2017, 10 women shared a total of $20,000 with funds raised from the Home Tour and individual donors.
Whereas, this event showcases a number of outstanding homes in our city which can be visited and enjoyed by residents and visitors alike,
Whereas, the 14th Annual AAUW Home Tour takes place on Friday, February 9,
Now, Therefore, I John W. Holic, Mayor of the City of Venice, Florida, on behalf of the Venice City Council do hereby proclaim Friday, February 9, 2018 as
Venice AAUW Home Tour Day
in our city and encourage residents to consider participating in this worthy event to support its goals of educational support which benefit our entire community.
In Witness Whereof, I have hereunto
set my hand and caused the Seal
of the City of Venice to be affixed
this 23rd day of January, 2018
John W. Holic, Mayor
---
For Information on the 2018 Home Tour, click here.
---
The holiday luncheon on Thursday, December 14, brought more than 120 members to the Venice Yacht Club. Festivities included a mix of classical and seasonal music performed on flute and piano by Karen and Chris Romig. She has a degree in flute performance; he is the pastor at Venice Presbyterian Church
---
Save the Date!
Homes and Treasures Home Tour takes place February 9, 2018.
From 10 am to 4 pm that day, visit five outstanding homes in this 13th annual event that benefits the AAUW non-traditional scholarship fund for local women.
Each home displays unique features and architecture along with a treasured collection of the homeowner. Along the tour, you'll also have the opportunity to buy a raffle ticket for some outstanding prizes, each valued at $200 or more.
A separate Celebration Party will be held at the Venice Art Center that day from 4 to 6 pm and includes wine and light snacks. Drawings for the raffle prizes will take place there but you do not have to be present to win.
Tickets for both will be sold in advance and at the door.
Plan now to be a part of it by helping to staff this popular event. Direct any questions to Bev Weltzien (941) 223-0612 or Jan Harris (781) 929-5045.
---
Welcome to the Venice Branch of American Association of University Women (AAUW).
The AAUW meetings will be at the Emmanuel Lutheran Church at 790 S. Tamiami Trail. The map shows the location of the building at the south end of the complex where we will hold the AAUW meeting. There is parking all around the complex. Handicap parking is in front of the church. There is paved parking in the rear. There is grass parking on the south end. The Hall where we meet has entry doors at the four corners of the building.
The lunch starts at 11:45. Members will provide some of their favorite buffet foods and desserts. The meeting will start at 12:30.
The new directories will be available at the Membership Table. Don't forget to wear your name tag.
Paula Dulski,
Membership Director

---
Book Discussion Group:
Monthly book group meets at an area library. At every meeting, members have a "go around" to suggest a book they have read that others might enjoy. These suggestions are reviewed to come up with a list for the following year. Selections typically include biographies, historical fiction and contemporary novels. For this year's holiday project, members are collecting new and gently used children's books; they will be donated to youngsters who are part of the Family Promise program.
---
VENICE BRANCH SPONSORS STEM EVENT
Marge Ostrom
Thanks to planning by Suzanne Costa, Pat Weber and Ellen Franck, girls who were nominated by their teachers and applied but were not selected to attend Florida Tech Trek 2017 got to participate in a local STEM event on June 13. Of the 18 girls invited to visit Mote Marine Laboratory in Sarasota for a day of planned STEM activities under the guidance of one of Mote's Education Staff, six accepted and three came: Tia Laforet from Imagine School in North Port, Victoria Haranda from Sky Academy in Englewood and Kylie Robbins from Sky Academy. Pat Weber and Marge Ostrom chaperoned. The girls started in the morning with a guided tour, learning about the many marine species at Mote. Their favorites were the river otters, the sharks and the large preserved squid, Molly the Mollusk. After lunch instructor Eilene Todd engaged the girls in several science experiments. Ms. Todd's enthusiasm for her work was
contagious and soon the girls were busily testing water samples to determine if the amounts of acidity, turbidity and salinity would support scallops living in the estuary. Using microscopes, they explored microorganisms in samples of gulf water. A discussion of possible careers in science followed with Kylie and Victoria wanting to be engineers and Tia, a gaming programmer. The day ended with the girls searching for sea creatures in the nearby estuary. They were delighted to find shrimp, crabs and a small flounder, all of which were returned safely to their habitats in the sea grass. Hopefully, as we go forward, we can expand interest in a STEM program for those girls not selected from the pool of nominees who apply to Florida Tech Trek.
---
---
Please take a moment to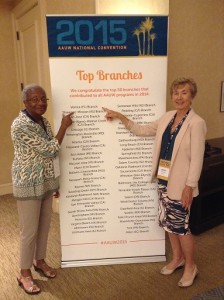 Congratulations AAUW Venice (FL) Branch!
Top Branch – National Convention 2015
If you are a member of the branch, you can use your password to enter the Members Only section of the web page. In this section you will find the current membership directory, branch bylaws, branch policies, and other information.
You can read more about current events in the branch in the Newsletter tab at the top of the page.
Our branch meetings are held monthly, September through May, on the second Thursday of the month. Information about the 2017-2018 branch meetings will appear below and under General Meetings in the Activities tab.