---
To contact your legislator, the basic idea is as follows. Expand on any part of this that you want, or keep it brief. A phone call is more powerful than an email or text.
My name is________. I am a resident of _______. I am calling to urge ____ to vote yes/no on _____________. (This is important because ______________________.) Thank you.
AAUW strongly supports the vigorous enforcement of Title IX and all other civil rights laws pertaining to education.
---
The American Association of University Women (AAUW) is working to close
the gender pay gap by 2030!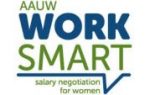 Join the 10 million women across the U.S. being trained in salary negotiation. Learn how to improve your financial future and secure the pay you deserve.
Sign up for a free online salary negotiation workshop!