Hello AAUW Venice members,
It seems so long since we have been together, but I want you to know that the board is still at work trying to figure out how to carry out our mission in the time COVID-19. We are looking at doing Webinars, having small groups of Zoom,  having speakers on line, having Sig Zoom groups and this is just a starting point. If you have any ideas, please let me know.  Our board is meeting again on June 3rd.  It would be fun to have some summer socials with social distancing. We will see what is possible. There will be a Summer Venice Views early in June.  Below is a link to AAUW national about Title IX. There is a way for you to contact your legislators right on the attachment.  I will put on the web site a review of what was covered at the Florida State meeting on May 9.  Until we meet again, stay safe, and stay in touch.
Kathleen Pickering
AAUW strongly supports the vigorous enforcement of Title IX and all other civil rights laws pertaining to education.
---
The American Association of University Women (AAUW) is working to close
the gender pay gap by 2030!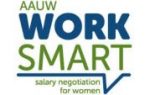 Join the 10 million women across the U.S. being trained in salary negotiation. Learn how to improve your financial future and secure the pay you deserve.
Sign up for a free online salary negotiation workshop!