U.S. and Russian Women Meet to Boost STEAM Training for Girls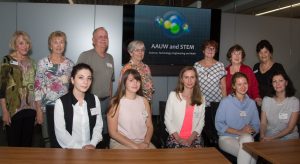 Russian women educators were hosted at a joint meeting with members of Venice Branch of AAUW.  Front row, left to right:  Fatimat Chochaeva, Irina Senchilo, Anastasiya Menshikova, Lyudmila Vayner and Anastasiya Kadyrova.  Standing, left to right:  Kathleen Pickering, Venice AAUW President; Marge Ostrom, past President; Friendship Force members Dave Burke, Barbara Peterson, Marie Beck and Ramona McGee; and, AAUW Tech Trek Coordinator Pat Weber.
The two groups were brought together through Friendship Force Sarasota, a volunteer organization with global interests, one of 98 clubs in 36 states, to promote peaceful interchange on a citizen level. This group sponsored the visit by the Russian educators along with their translator and facilitator.
Marge Ostrom, past president of Venice AAUW, explained how the American camp was launched by a California AAUW branch in 1998. It expanded in 2013 to a national program with 21 camps including one in Florida. AAUW Venice has been a strong supporter of this opportunity to foster learning opportunities for young girls. To date, they have sponsored (number) camperships at a cost of $1,000 per camper.
Pat Weber, who is one of the chairpersons for this AAUW undertaking, described how the girls are selected. They must have completed seventh grade, be nominated by a teacher, completed an essay and be evaluated through an interview with the AAUW committee.
Jami Naylor, a librarian from Jacaranda branch of the Sarasota Library System, gave a demonstration of "ozobots" used to teach even younger girls about computer coding at a cooperative event held recently by the library and AAUW Venice.
The Russian contingent, who are members of the Association of University Women of Russia, had many questions about the structure and staffing of Tech Trek and plans to hold a similar camp in Russia in the summer of 2019.
Preteen Girls "STEAM Ahead" At Venice Jacaranda Library
A collaboration between the Venice branch of the American Association of University Women (AAUW) and the Teen Services Librarian of the Jacaranda Library drew dozens of nine to twelve year-old girls for a hands-on technology event. It took place on Saturday, April 28, 2018.
Designed for 20 registrants, it was expanded to include some of the additional preteens who wanted to participate.
Pat Weber, a retired teacher who headed up the AAUW team conducting this learning session with library staff, says "We were very pleased that we were able to give these girls a fun learning experience and show them some avenues for future education and career paths. This age group is typically when girls lose interest in the STEM subjects of science, technology, engineering and math. We also included an art application because it's been demonstrated that art education promotes original thinking, a critical component in innovation."
Tabletop projects included making edible models of DNA with licorice sticks, miniature marshmallows and toothpicks. Dry spaghetti and more marshmallows challenged the girls to construct a tower that would be stable enough to support a "Peeps" marshmallow chick on top. Tiny computerized robots called Ozobots™ allowed them to do some basic coding so the robots would follow a computerized track they designed.
The workshop, with other session topics, has been offered at Venice and North Port libraries. Plans are to repeat the workshop again at a future time. For more information about AAUW, visit venice-fl.aauw.net on the internet or on Facebook.
Library/AAUW to host STEM event
This story originally published in the Venice Gondolier Sun from Sarasota County Communications (http://yoursun.com/sunnews/venice/10345455-699/story.html.csp)
Wednesday January 13, 2016 SUN NEWSPAPERS
The youth services staff at the Jacaranda Public Library has again teamed up with the Venice Branch of the American Association of University Women for an event aimed at encouraging young girls to consider the fields of science, technology, engineering and math (STEM) as career choices.
The event, "Girls, Gadgetry and Galvanizing Genius," will be held from 10 A.M. to 12:30 P.M. Saturday January 30th, in the meeting room of the Jacaranda Public Library, 4143 Woodmere Park Blvd., Sarasota. Targeted to girls ages 9-12, the event will give them the opportunity to participate in innovative projects that foster teamwork, creativity and problem-solving skills.
"One step in solving the inequity of women employed in the STEM fields is to provide engaging activities to young girls in order to positively influence them in pursuing scientific disciplines in their future," said Dr. Marge Ostrom, Venice AAUW president and former research scientist.
"AAUW is pleased to partner with the Jacaranda Public Library to conduct a hands-on STEM event that will award girls the opportunity to experiment with scientific ideas in the company of eager learners supported by women who believe in their abilities." The event is limited to 25 girls.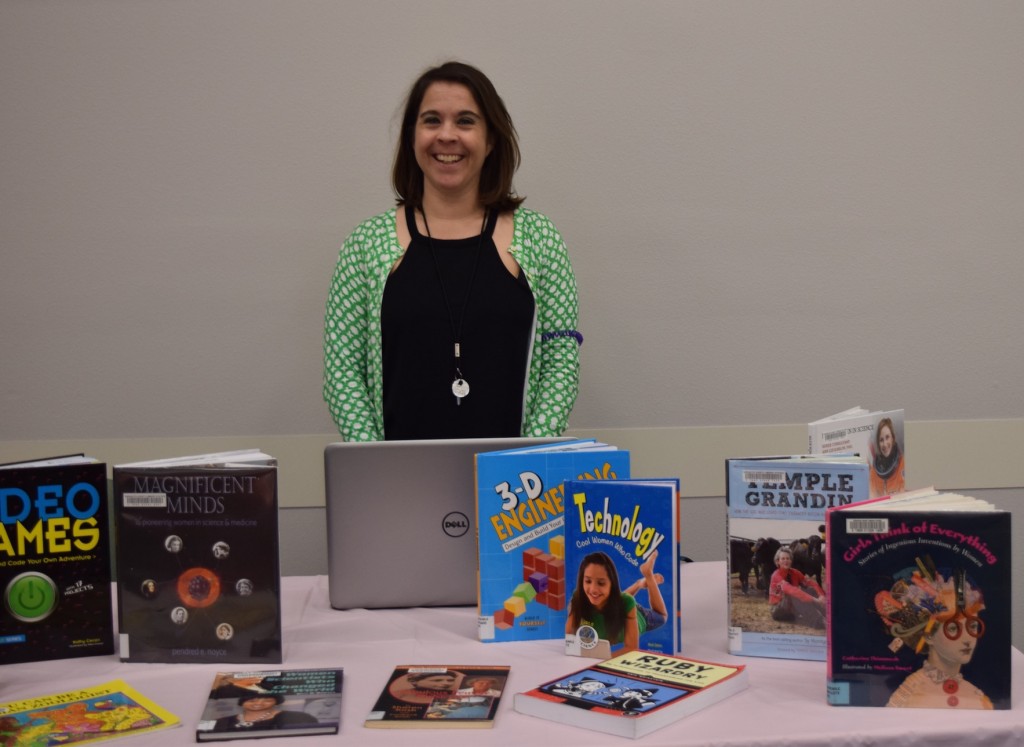 Another STEM library event is planned for Saturday, January 21, 2017 with more information to follow
For more information, call the Sarasota County Contact Center at 941-861-5000 or visit SCGov.net.
---
WOW! Seven 8th Grade Local Girls Now Love, Like and Appreciate Science
Seven local 8th grade girls from Pine View School, Venice Middle School and Imagine School at North Port, described their weeklong Tech Trek camp exposure to science, technology, engineering and math (STEM) that took place this past June at Eckerd College in St. Petersburg, as "extraordinary" "awesome,", "exciting," "incredible," and "an unique educational experience." These young ladies expressed their thanks and gratitude to the members of the Venice Association of America University Woman, AAUW at the October 8th General Meeting.
Cristina Alessandro, Lilah Board, Alexis Coleman, Christiana Guan, Faith Kern, Nikki Kulcsar and Madison Rassbach were chosen along with 37 other Florida girls from a pool of 250 statewide Florida former 7th grade female applicants. All applicants were nominated by their 7th grade science or math teachers. The selection process included a written essay, responses to questions and a personal interview.
The 44 Tech Trek Florida campers' weeklong participation consisted of workshops and hands on exploration, investigation, experimenting and learning about robots, aeronautics, geology, food chemistry, forensics, mathematical and engineering applications, computer simulation, and coding Apps, along with gaining of insights about some of Florida's environmental problems. Kudos, to Verizon for their support and help regarding the coding of Apps. The campers also were able to engage in building their social skills and self-esteem. Faith stated, "It was interesting to learn about all the different types of science." Christiana shared, "it was real amazing meeting and making new friends" Lilah declared that " building a hot air balloon; creating something out of nothing, like tissue paper, by ourselves and making it work." was a great achievement.
Paula Wiggins a civil engineer with Sarasota County was one of six Professional Women's Night speakers, who explained what her career involved and why she enjoyed it. Paula commented that "Kids need to be shown how these careers apply to their lives and the possibilities of becoming the scientist that discovers the cure of cancer." Shirley Reid, 2015 Camp Director and a retired schoolteacher, said "Tech Trek opens up a world of possibilities in which girls see first-hand from exceptional female role models in STEM careers how exciting STEM careers can be."
Madison, Alexis and Cristiana all remarked that the Tech Trek experience helped them become aware of the different jobs and the various careers there are in the field of science. Nikki revealed how amazing this opportunity was and how this experience inspired her to pursue a career in Pediatrics.
Director Reid emphasized that "AAUW has been a leader in the effort to get more girls interested in science, technology, engineering and math (STEM). We are proud to offer this opportunity for a fourth year to our young Florida girls entering 8th grade." She shared that "Tech Trek began over 17 years ago in California, and has expanded to 17 camps throughout the United States. " Funding for Tech Trek 2015 was provided in part by the Leslie and Margaret Weller Fund and the Paul and Anne Finstad Fund of the Community Foundation of Sarasota County. Each girl, who was accepted to the 2015 Tech Trek camp, received a scholarship that helped defer the program's cost of $900.00 per girl, thereby allowing families to pay only a $50 fee.
The positive impact of the AAUW Tech Trek STEM Camp experience and its influence was evident by the Tech Trek alumnae data that indicate a significant increase in the number of science, math, and science and math Advance Placement courses, currently being offered at the high school and college levels. The data also revealed that attendance in these courses are higher than the national average.
Additional information and questions about the application process for the 2016 Tech Trek Summer Camp can be obtained by contacting Pat Weber, AAUW Venice Branch Tech Trek Coordinator. This year's weeklong Florida Tech Trek Summer Camp will be held from June 12 -18, 2016, at the Palm Beach State College on the FAU Boca Raton campus.
---
Press Release for Venice Branch – AAUW / Frances T. Bourne Jacaranda Public Library STEM Event- January 31, 2015
"Can we do this again next year?" asked Makayla Hunter, an enthusiastic 10 year old from Brentwood Elementary at the end of the STEM event run by Venice branch of AAUW (American Association of University Women) and presented in partnership with the Frances T. Bourne Jacaranda Public Library in Venice on Saturday, January 31, 2015.
Twenty-nine girls age 10 to 13 gathered at the library Saturday morning to work on four STEM (Science, Technology, Engineering and Math) projects designed by members of the Venice branch of AAUW. These are fields in which women are currently underrepresented. Kathy Black, President of Venice AAUW, and Sheila Kaufer, Frances T. Bourne Jacaranda Youth Librarian, started the hands-on event by addressing the girls briefly. First Sheila told the students, "The connection between our library and the AAUW is unique.  Fran Bourne was a longtime member of the Club and was president from 1981-1983.  This library was built due to her insistence that South Venice needed this library."
Kathy Black noted, "Our girls are incredibly talented and creative.  It is important to encourage these interests and talents in STEM fields before they enter upper grades and explore possible career decisions.  AAUW is very proud to help in this effort."
The students rotated through two of the four available projects during the morning event. Some girls remarked that they would have liked to work on all of the projects.
Makayla and Sophia Rivera, 12, from Venice Christian School worked together successfully on an engineering project, "Tower Power", where they built a straw tower that supported a soda can filled with rice. Carol Cudia, an AAUW member, coached them during their effort.
"Edible DNA" was a tasty science project that enabled the students to explore the shape and structure of DNA by creating the ladder-like shape of the helix from licorice sticks and gumdrops. Phoenix Shipley, 11, a 6th grader at Pine View School showed her completed helix.
"Diffusion, Osmosis and Research" demonstrated the technology used to create plastic baggies which we think of as impermeable. The girls saw that sugar molecules could transfer from the inside of the baggie to a water solution outside while iodine was able to permeate through the baggie and enter the solution inside.
In the "Math, Art and Parabolic Curves" project the students used the technique of string art to stitch overlapping colorful parabolic curves. Parabolas describe the path of a projectile and are common elements in architecture and bridge construction.
This is the fourth time the Venice-AAUW branch has held this popular activity for local girls in partnership with the Sarasota Public Library System. Jane Farley, Venice-AAUW STEM Chair, told the students that the branch hopes to continue sponsoring the event in the future.
The Venice-AAUW branch is 40 years old and a member of the American Association of University Women which advances equity for women and girls through advocacy, education, philanthropy and research. More information about the 250 member branch and its activities can be found at https://venice-fl.aauw.net/.
Contact information:
President of Venice-AAUW

: Kathy Black

Frances T. Bourne Jacaranda Youth Librarian

: Sheila Kaufer

Venice-AAUW STEM Chair

: Jane Farley
Photo releases are on file at the Jacaranda Library. Please check with Sheila Kaufer if you have questions about this.
Prepared by: Anne Finger, Venice-AAUW
---
Click on the articles below to enlarge!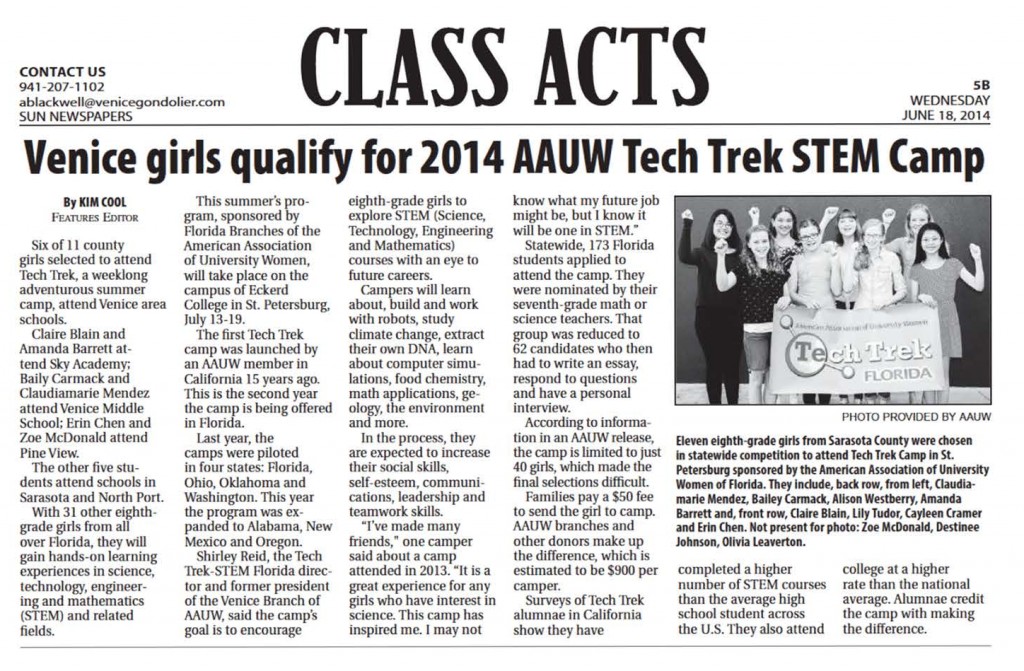 ---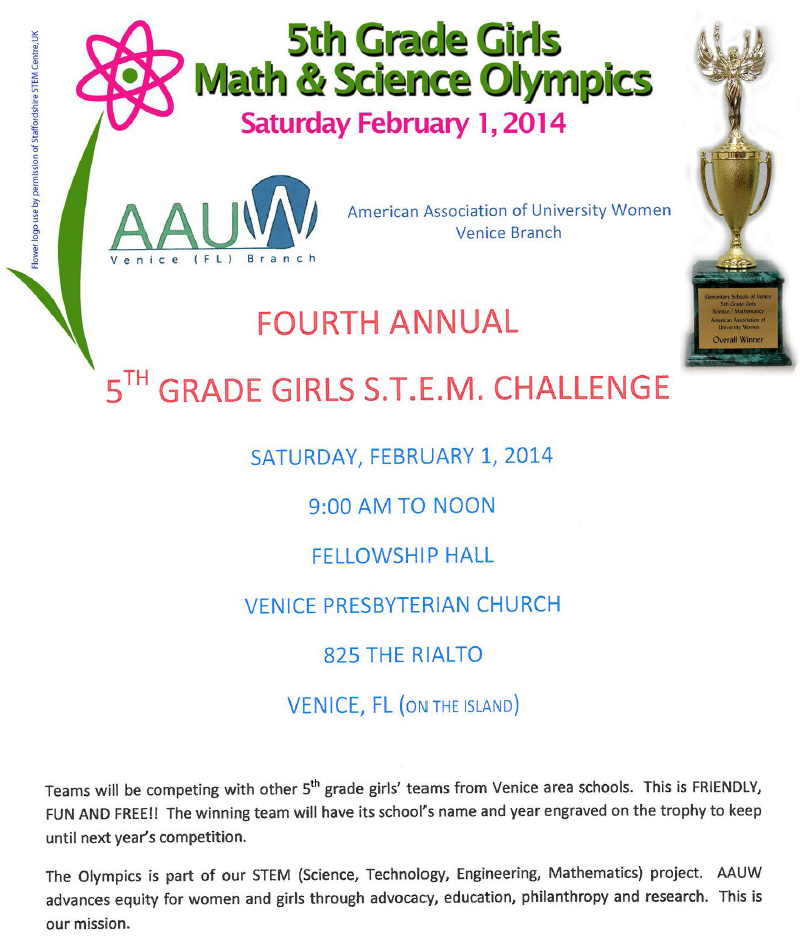 ---
Click on the graphic below to enlarge!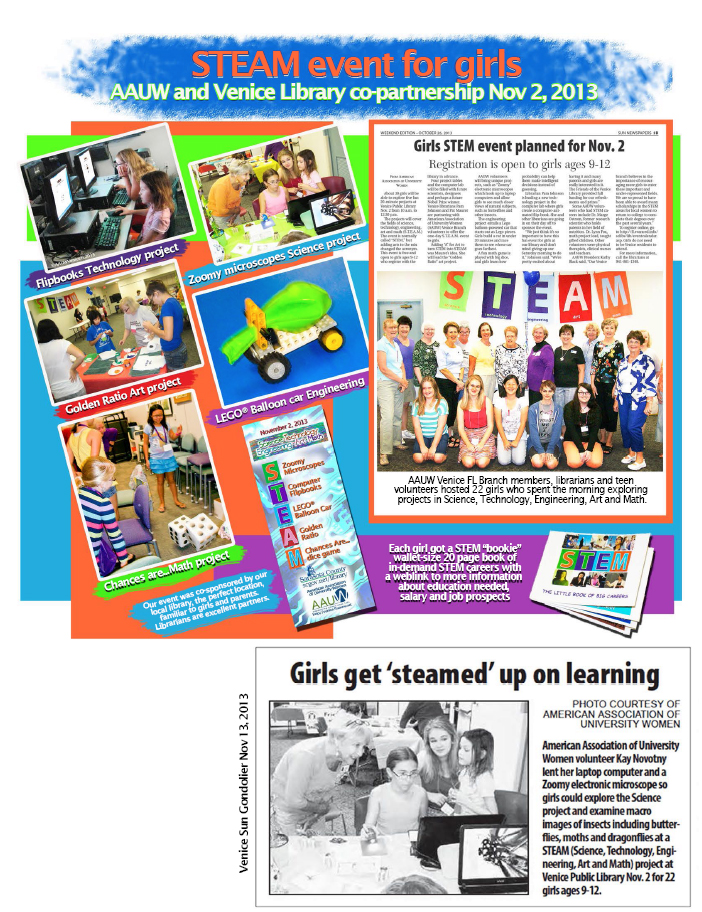 ---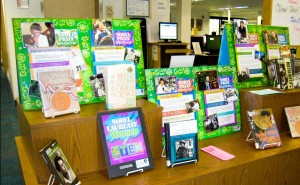 Our "Nobel Laureate Women of STEM" display is next scheduled to be exhibited at the Venice Library November 2013. It was previously on display at the May 2013 STEM Summit at the University of South Florida and at our June 2013 STEM event "girls, gadgetry and galvanizing genius" in partnership with the Elsie Quirk Library in Englewood, FL.  The exhibit includes the names of all women who have been awarded a Nobel Prize in STEM fields including Medicine, Economics, Physics and Chemistry. A list of related books available in the Sarasota County library system is also included with every exhibit.
Making girls as well as the general public aware that women are succeeding in these areas of study is important because it is not given much publicity by the media. STEM stands for Science, Technology, Engineering and Math.
This exhibit was made possible by a grant from the Florida state AAUW. Venice member Nancyrose Logan created the artistic green background boards for the display.
---
AAUW Venice Branch participated in the May 18 STEM Summit at University of South Florida at Sarasota-Bradenton with 100+ area girls attending a day filled with exciting STEM workshops from educators and professionals working in these fields. Dr. Sunita Lodwig was USF Faculty Leader and Jennifer Rogers was USF Project Manager. It was an outstanding event due to their hard work and dedication. To learn more, view our STEM Summit report.
---

Our STEM event was a partnership between our Venice Florida AAUW branch and our local library. We, along with the Youth and Young Adult librarians, invited girls age 9 to 12 to spend a Saturday morning exploring fun STEM projects in Science, Technology, Engineering and Math. To learn more about sponsoring a STEM event with 20-minute projects anyone can do, click the graphic above!