The Venice Branch AAUW (American Association of University Women) has established a scholarship fund to provide financial assistance to women residents of Sarasota County.
A non-traditional student is one whose family or other obligations required an interruption in studies prior to resuming higher education (Re-entry), or one who waited until later in life to start higher education (Delayed Entry).
The scholarships are funded through proceeds raised by an AAUW Home Tour held each February, and administered in a partnership with the Gulf Coast Community Foundation.  The 2019 Home Tour will be held on February 8, 2019.
For further information and application click here!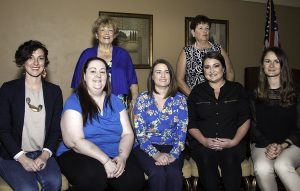 Non-Traditional Scholarship Winners for 2018
Five of the seven women awarded an AAUW nontraditional scholarship for late or interrupted higher education. Standing behind them are the two AAUW committee chairpersons who organized this annual program.
SCHOLARSHIP REQUIREMENTS
The candidate MUST:
Be a resident of Sarasota County. If using a post office box number, verification of residency must be sent.
Provide proof of application or enrollment in an accredited institution of higher education.
Complete the scholarship application for Gulf Coast Community Foundation. Go to www.gulfcoastcf.org/scholarships.  The deadline for application for 2019/2020 scholarships is March 23, 2019.
You must be available for AAUW Scholarship Committee interview to be scheduled on Saturday, March 23, 2019.
In addition to the above requirements, candidates for the Re-Entry Scholarship must have previously attended an accredited institution of higher education before studies were interrupted.

Enclose official verification showing dates of these previous studies.
Forward a copy of the most recent transcript and proof of current enrollment.
These requirements will be evidenced in your application to Gulf Coast Community Foundation

Successful scholarship recipients may re-apply for immediate subsequent years
Scholarship winners will be notified by e-mail.